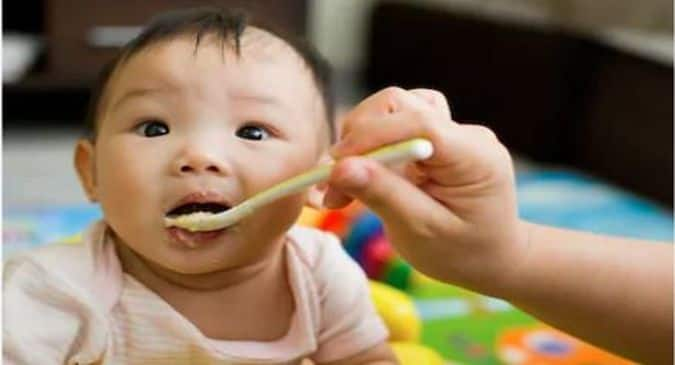 Feeding your babies with milk is not enough after they have attained the age of 6 months. It is time to feed them with something solid that is healthy and helps the child to grow. Also, extra care should be taken to ensure that the child doesn't get sick when s/he is fed with solid foods. As the National Nutrition Week begins today, we spoke to Dt. Anushree PN, Consultant Nutritionist & Dietician, Motherhood Hospitals, Indiranagar, Bangalore to learn more about child's nutrition, as well as what to feed and what not to feed your baby in the first year.
"Babies are generally expected to triple their birth weight by age one, and they require a lot of nutrients to grow that much more than at any other time in their lives. Their first foods should be soft and easily swallowed, such as porridge or well-mashed fruits and vegetables. Begin by giving your baby two to three spoonful of soft food twice a day after washing your hands. Her stomach is small at this age, so she can only eat small amounts at each meal," Anushree said.
Here are a few things Anushree wants parents to keep in mind while introducing solid food to their infants.
Also Read
Avoid feeding these foods to infants
Breast milk and formula should be your baby's primary beverages instead of cow milk until he or she is one year old. However, cow's milk can be used in cooking and baking.
Avoid introducing honey too early, as it can cause botulism leading to a serious illness.
Choking hazards should also be avoided during your baby's first year. Avoid the following choking hazards: nuts, seeds, raisins, hard candy, grapes, hard raw vegetables, popcorn, peanut butter, and hot dogs.
Feed your baby according to age
Feeding your baby aged 6 months: After birth, the amount of iron stored in the uterus decreases, and a baby's iron level reaches an all-time low at around 9 months. As a result, iron-fortified cereals are an excellent early food source and iron-rich foods such as ragi can be added to baby's food. 1 teaspoon of single-grain cereal plus 4 to 5 teaspoons of breast milk or formula.
Feeding your baby aged 6 8 months: Feed your baby half a cup of soft food two to three times a day beginning at 6 8 months of age. Except for honey, which she should not eat until she is a year old, your baby can eat anything. You can begin to include a healthy snack between meals, such as mashed fruits and cooked and mashed vegetables.
Feeding your baby aged 9 11 months: Your baby can eat half a cup of food three to four times a day, plus a healthy snack, when he or she is 9 11 months old. Instead of mashing soft foods, you can now begin to chop them into small pieces. Your baby may even begin to eat food with her fingers. Continue to breastfeed your baby whenever he or she is hungry. Each meal should be both easy to eat and nutritious for your baby. Make each bite count.
Nutrients essential for your baby
Foods must be high in both energy and nutrients. Along with grains and potatoes, make sure your baby gets vegetables and fruits, legumes, nuts and seeds, a small amount of energy-rich oil or fat, and animal foods and dairy products.
Your baby's protein requirements are also increasing as he/she is growing. Protein is one of the most essential nutrients. Sprouts, germinated grains and nuts can be added to the diet according to the tolerance of the baby for their muscle and brain development.
The growing baby also requires nutrition to grow and stay healthy. For example, calcium helps in the development of strong bones and teeth.
Fat produces energy, helps in brain development, maintains skin and hair health, and protects against infections. Iron is essential for building red blood cells. Iron-rich foods should be given to breastfed babies after 6 months.
"Waiting a few days after giving your baby a new food is a good way to monitor for allergic reactions. Emerging research suggests that introducing multiple foods together is safe and may reduce the immune system's risk of developing food allergies, but more research is needed," Anushree noted.
It is advisable to consult a doctor to determine what is best for your baby.
India observes the National Nutrition Week from September 1 to September 7 every year to create awareness about good nutrition and healthy eating habits
Total Wellness is now just a click away.
Follow us on